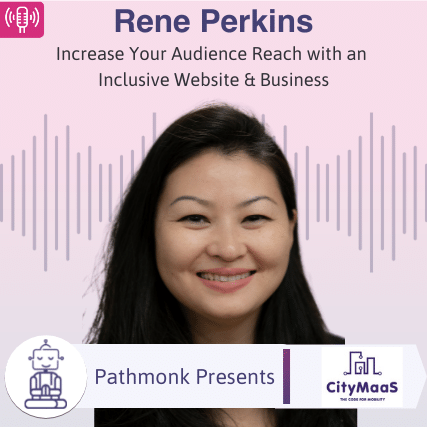 Introduction
Are you missing out on a whole new audience that you forgot to consider in your market research? Those with disabilities and impairments are essential to our communities and even to the potential success of our businesses. CityMaaS is on a mission to build a world of inclusivity that benefits everyone; to turn social impact into profit. Whether you operate online or offline, CityMaaS's solutions and products offer those with disabilities the tools and information to live independently; to be empowered.
The motivated, driven and down-right compassionate CEO, Rene Perkins joined us today. She discusses the founding of the business, its exceptional and organic growth as well as her insights into being an entrepreneur. As we are passionate about websites we loved to hear Rene discuss their solution that enables pre-set personalized assistance levels to ensure everyone can access your website. An inclusive website that makes for an inclusive buying journey, ultimately generates more revenue.
As we often focus too much energy on the complexities of increasing conversions we forget to lay the foundations first. For Rene, it is essential to ensure you have crafted a useable, simple, and inclusive website that conveys a powerful and clear message. We were relieved to hear, that she agrees; the buying journey is your next point of focus before increasing conversions. Listen in to learn more about mobility and inclusivity.
Take The Next Step on Your Growth Journey
Growth Marketers in the show focus mostly on one of the three big problems. Increasing the number of leads, reducing the customer acquisition cost, or improving the lead quality – that's why they are in growth in the first place. Reports from Gartner and real experience from the guests show that >70% of the buying journey is happening online.
The step-by-step Ebook guide below will help you to get started and analyze the digital buying journey on your website. Take this cheat sheet to accelerate revenue for your company. The buying process has changed, has your website experience?
Get The Buying Journey Guide
Read practical advice, best practices, and expert tips to help you become a master of your website's buying journey