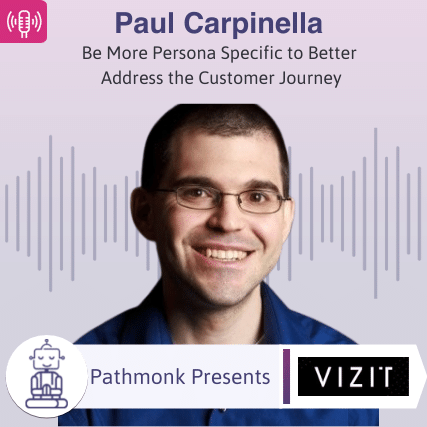 Introduction
There's nothing like sitting at a great restaurant, where each dish allows you to truly be in the moment as heavenly flavors take over your taste buds. Our guest today, Paul Carpinella compares this experience to the buying journey. The appetizers, like the awareness stage, draw you in; excite you for what's to come next. The main course is filling and satisfying as you begin to convert to order a dessert. And finally the cherry on top, a scrumptious ending to sweeten the deal to purchase. And after executing an award-winning buying journey or meal, your customer returns again and again.
Paul is the head of demand generation at Vizit a visual brand performance platform. Vizit uses visual intelligence technology to measure, understand, and optimize every visual experience consumers have with your brand to drive more sales. Visuals continue to drive engagement throughout purchasing decisions and experiences, even at a restaurant. With disruptive and novel technology, Paul wants to better address their customer journey with persona-specific content.
To personalize the customer journey to match a customer's buying stage and address their pain points can have a revolutionary impact in final conversions. As Vizit markets to enterprises, Paul considers the longer buying journey in his efforts to execute a multi-touchpoint marketing strategy. With a persona-specific experience, tightened messaging, and thought leadership Paul is ready to get customers to their restaurant, sorry website, for conversions.
Take The Next Step on Your Growth Journey
Growth Marketers in the show focus mostly on one of the three big problems. Increasing the number of leads, reducing the customer acquisition cost, or improving the lead quality – that's why they are in growth in the first place. Reports from Gartner and real experience from the guests show that >70% of the buying journey is happening online.
The step-by-step Ebook guide below will help you to get started and analyze the digital buying journey on your website. Take this cheat sheet to accelerate revenue for your company. The buying process has changed, has your website experience?
Get The Buying Journey Guide
Read practical advice, best practices, and expert tips to help you become a master of your website's buying journey