After speaking with 400+ Website Owners and SaaS Marketers on the Pathmonk Presents Podcast, it's clear that the majority of SaaS and lead generation websites lose >98% of their website visitors without conversion. That's quite a lot of hours and dollars invested without yielding results.
What do most of these lead gen sites have in common? They analyze their website with Google Analytics! Often it seems that they don't substantially improve their lead results with the insights they get from this analytics tool.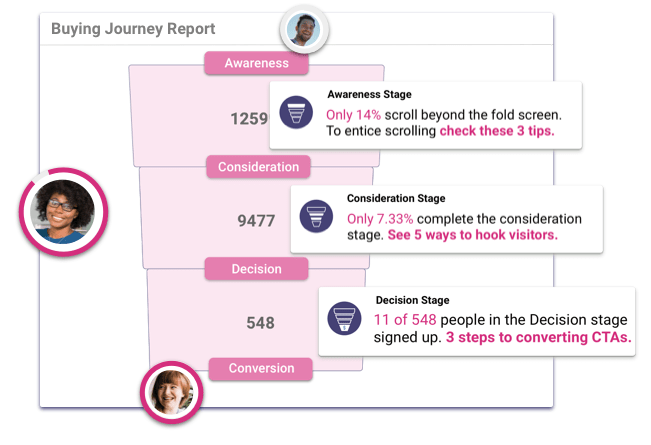 We are working on an alternative to Google Analytics that is specifically made for SaaS and lead generation websites that provides actionable insights and change suggestions. The tool is called Pathmonk Metrics. We're going to dive into some of the issues facing lead gen marketers that use Google Analytics.
As you know Google Analytics is used by millions of websites. It's the most popular website analytics tool by far. Even I have used (and actually still have it running) Google Analytics on SaaS websites that I work on. The issue is that I, similar to many of the website owners I spoke with, have discovered that it's tricky to really improve lead results from the site with the Google Analytics insights. Let's discover why…
Lead Gen & E-commerce Sites are Completely Different.
Let's take a quick look at how SaaS/Lead Gen websites are completely different from E-commerce websites.
The E-commerce conversion funnel that we all know, which you can measure really well with Google Analytics, is focused on immediate action. The goal of E-commerce sites lies in driving consumer action towards making a purchase, ideally on the spot. Thus, E-commerce sites are generally centered around speed and creating a sense of urgency before visitors have enough time to lose interest. Instead of a process that takes hours or days, an eCommerce shopper might convert in a manner of minutes.
In comparison, Saas and Lead generation sites also have the eventual goal of ending in a sale, but the buying journey is typically a much slower process. Lead generation sites often involve things like demonstrating value in exchange for consumer data, like gated premium content. The goal is to develop trust and familiarity with the business over time, prior to a customer committing to a purchase. In comparison to the rapid pace of an e-commerce website, lead generation websites are typically designed with a significantly lengthier buying journey in mind. The majority of first-time, even second, third, or fourth-time, visitors on a lead generation website aren't there to book a demo or speak to sales. They're there to learn more about a business and its services before making a financial or time commitment.
The differences between e-commerce and lead generation marketing are important because different objectives require different analytics strategies.
Free AI-Powered Buying Journey Toolkit
Learn how to optimize your buying journey and speed up your revenue with top strategies and invaluable resources.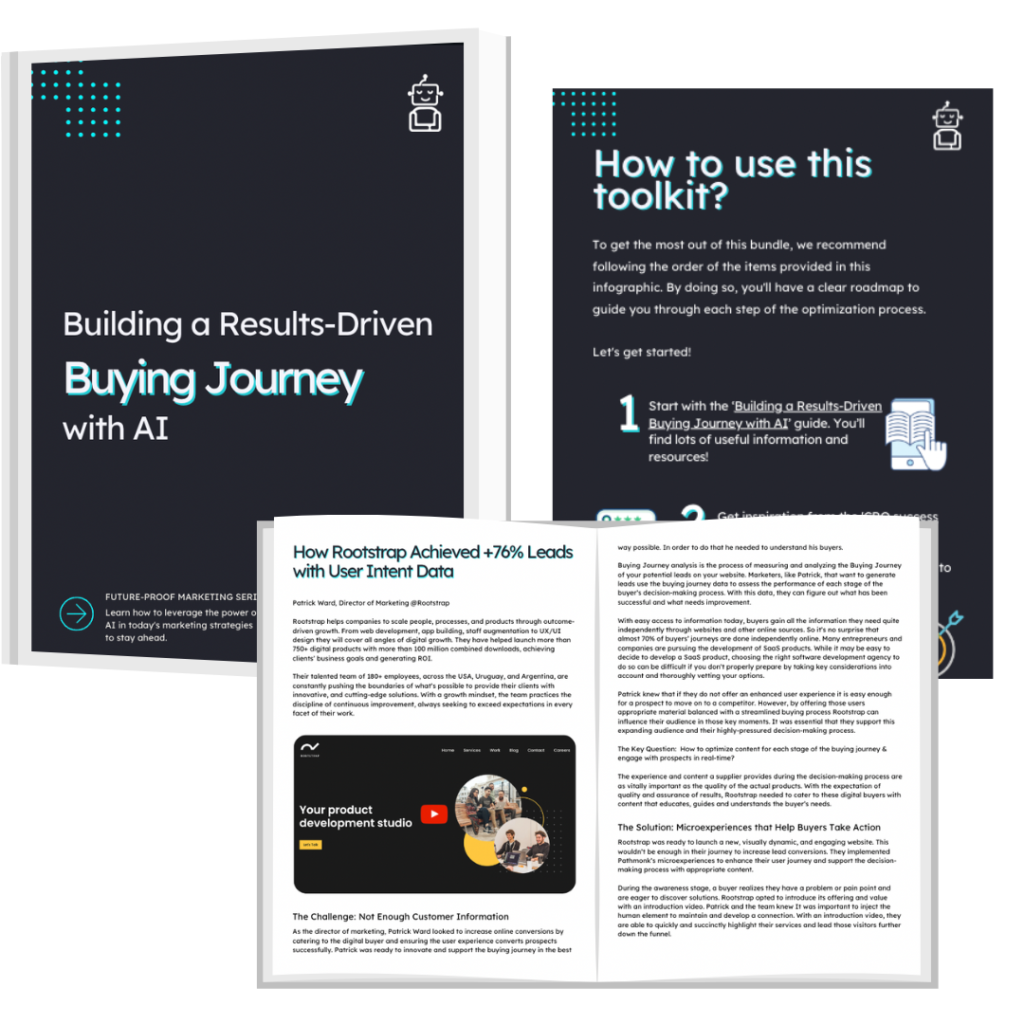 The Lead Gen Buying Journey vs. Ecommerce Conversion Funnel
To be clear: The E-commerce conversion funnel is not equal to the Buying Journey that you find on lead gen websites. 
This is an important yet underappreciated difference. For both the Ecommerce site and the lead gen site, the conversion rate is the primary goal but how website owners get it is fundamentally different. 
The E-Commerce conversion funnel is a set of metrics to track how many people responded to an offer. Let's take a typical E-commerce funnel as an example and see it within Google Analytics:
Visiting the website

Visiting the product page 

Adding to the cart

Visiting the checkout page

Getting to the "thank you" page after a purchase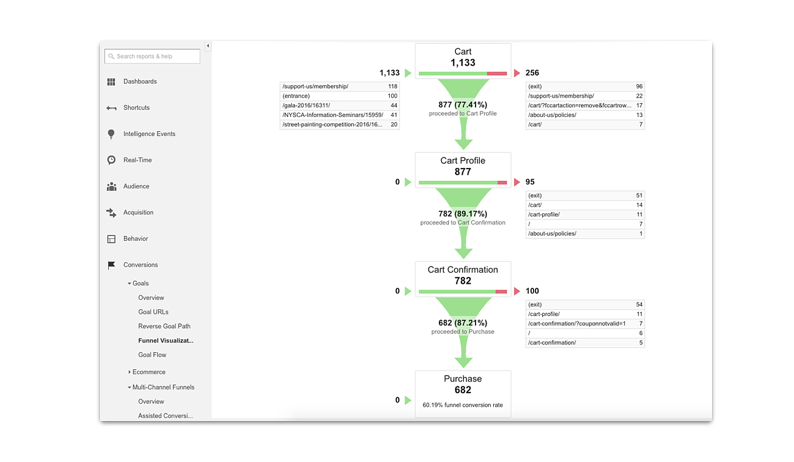 This is an effective analytics approach for E-Commerce sites because the goal of E-commerce lies in driving consumer action towards making a purchase ideally at the same visit.
In contrast, Saas and Lead Gen websites have to lead the buyer through a longer buying journey while building their trust. The most successful lead generation websites are those that focus on demonstrating value to their visitors, whether that be through thought leadership articles, unique content, and/or endorsements from clients and professional colleagues. 
With this in mind let's look at the structure of the buying journey.
The buying journey is the process that buyers go through to become aware of, consider, and decide to purchase your product or service. With easy access to information today, buyers gain all the information they need quite independently on your website and other sources online. HubSpot coined the term "Buying Journey" and outlined a simple yet effective separation of the 3 buying journey stages:
Stage 1 The Awareness stage: After a buyer realizes they have a problem or pain point they are eager to find a solution and begin discovering their options.
Stage 2 The Consideration stage: Buyers have defined their goal and are committed to addressing it. They evaluate the specific offering and start to become willing to engage with businesses.
Stage 3 Decision Stage: Buyers have already decided on a solution category. They have a profound understanding of specific offerings and need to decide on the one that best meets their needs.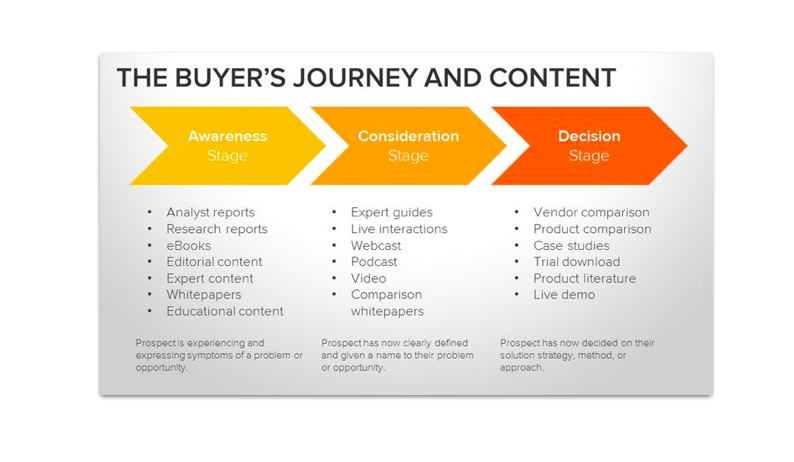 So, if you are a SaaS or lead gen marketer, you need to create a website experience that maps to the stages of the buying journey and avoid thinking in terms of a conversion funnel.
Therefore, what you have to measure is the buying journey and not the conversion funnel.
Sounds simple yet most are not doing it.
To repeat: The Buying Journey is not the same as the conversion funnel – they are measured completely differently.
Google Analytics is Everything for Everyone
One challenge is that no general-purpose analytics tool efficiently solves the need to track the Buying Journey stages on a website. For most SaaS and lead gen site owners, the number of metrics and reports that Google Analytics collects is too broad and unnecessary. The tool is powerful, no doubt, but in many ways complex without actually providing insights into the Buying Journey.
A reminder: The Buying Journey is not the flow of pages a user goes through – it's the stage of the decision-making process.
Many Google Analytics users end up creating custom dashboards or stick to the basic metrics that they deem valuable. They then ignore everything else that Google Analytics tracks. For many lead gen marketers, only a few metrics in Google analytics have value.
Google Analytics Doesn't Capture Buying Journeys
Google Analytics takes a clear stance: Task completion and task abandonment are the fundamentals. That's why the available metrics turn out to be: Goal Conversion Rate, Bounce Rate, and Click-through-rate. All of these are based on comparing the number of people who started a task vs. completed a task. That works well for conversion funnels but what about the Buying Journey?
Pathmonk Metrics focuses on your website Buying Journey. Data that is very hard or impossible to get for Lead Gen websites with Google Analytics…
Buying Journey analysis is the process of measuring and analyzing the Buying Journey of your potential leads on your website and it identifies at what stage a bottleneck occurs. Marketers that want to generate leads use the buying journey data to assess the performance of each stage of the buyer's decision-making process. With this data, they can figure out what they're doing well and what needs improvement on the site.
Pathmonk Metrics analyses each step that visitors take in their buying journey on your website, every click, every scroll, every tab change, every revisit, etc. Our tool knows where people are in the Buying Journey and how far they are from making a decision, thanks to Pathmonk's AI.
Google Analytics Doesn't Tell You Why People Don't Convert & What To Do
Analytics can help with observation, but it'll never give you the "why". Google Analytics doesn't tell you why visitors don't convert. You can't answer…
In which stage

of the Buying Journey people get stuck

Why do people

that start to seriously consider your offer still leave…

How many of your visitors

seriously consider your offer
So after digging through endless piles of website data two questions will still remain: Why do people not convert and more importantly what should you do about it?
A deep understanding of your visitors' Buying Journey will help you to get a step closer to the why. It helps you to build a better website for better results. 
Without having to set up any trigger events or conversion goals, Pathmonk Metrics tells you what you need to know to improve each stage of the Buying Journey on your website. It literally provides hands-on suggestions that tackle the specific bottlenecks on your website.
As you read this, Pathmonk's AI is already learning from countless lead gen pages. SO once you plug it into your page you will immediately benefit from the AI suggestions without having to crunch numbers for countless hours to get to insights.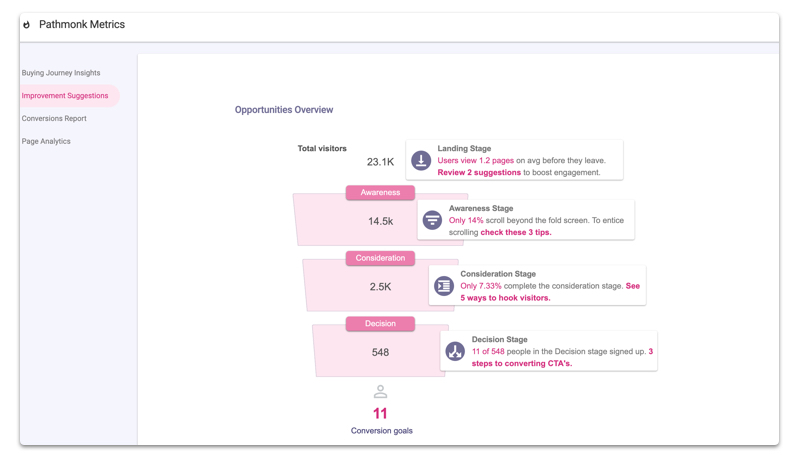 Should You Really and Completely Stop Using Google Analytics?
In the end, you need ALL forms of feedback. It's not a question of some being more important than others. They're all important and play their own unique roles. Google Analytics is helpful in catching AND debugging all the things that go wrong at scale in the real world on your website – such as pages that people leave more frequently, etc.
With Pathmonk Metrics we believe we have created a better Google Analytics alternative for site owners that want to generate leads from their website. The purpose of Pathmonk Metrics is to analyze the growth opportunities and buying journey on your website to then generate suggestions on how to improve and get better results from your website.
Pathmonk Metrics focuses on your website Buying Journey. Data that is impossible to get for lead gen marketers with Google Analytics or any other tool. To wrap it up a quick summary on Pathmonk Metrics: 
🤝  MADE FOR LEAD GEN – Analyses the Buying Journey not just single events (read more)
✨  SIMPLE TO USE – Buying Journey & Growth Opportunity data displayed in 4 tabs
🍪  PRIVACY FIRST – Doesn't use cookies 
💨  DOESN'T IMPACT PAGESPEED- Loads async after your website loaded
⏱️  FAST INSIGHTS – Find yourself watching countless session recordings? – Pathmonk Metrics gives suggestions straight away (read more)
👌  CONFIDENT INSIGHTS – Don't have 100 conversions per A/B variation and can't run a valid A/B test? Pathmonk Metrics draws from Buying Journey insights across the entire network (read more)
🧠  ACTIONABLE INSIGHTS – Struggle to translate visual heatmaps into ideas of what to change? – Pathmonk identifies the bottlenecks in your website buying journey & suggest changes to fix them (read more)
Request Free Pathmonk Metrics Access to See for Yourself
Pathmonk Metrics is a simple, time-saving metrics tool that goes beyond the standard insights by identifying the health of the buying journey on your website. It provides you with actionable suggestions so you can address the hidden bottlenecks on your site. 
You don't need to remove your current analytics provider but rather use Pathmonk Metrics alongside your other tools, see where you get the most actionable and impactful insights. Pathmonk Metrics is currently in beta, you spotted it early,  request free access here.
Smart website analytics made simple
Understand your user intent, buying journey, and enhanced attribution in one unified hub. Up to 10x conversions.