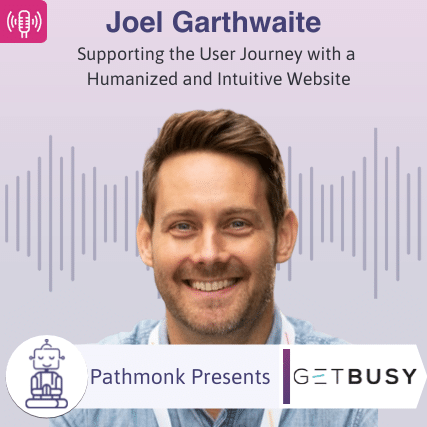 Introduction
Every business requires organization and management to function efficiently. We have to-do lists, goals, meetings, projects, and most importantly teams. As many have adapted to the online world of running a business some have even made it permanent. It is a changing world and GetBusy is there to help businesses run smoothly and efficiently in the digital age.
GetBusy is a task-management solution that brings order, organization, and prioritization to workflows with colleagues, customers, or suppliers. This software is beneficial to pretty much any business or organization and this makes the VP of Marketing, Joel Garthwaite's job that much more challenging. But chatting to Joel makes it clear that he loves a challenge and he is not afraid to fail when testing what supports their user journey best.
As SaaS companies, we have the tendency to overwhelm visitors with technical terms and complicated websites with too many choices. Joel has worked to, as he says; lighten the experience. Have a look at their website with hand-drawn illustrations, a bright color palette, and resonating messaging. They are well on their way to supporting the user journey with a humanized and intuitive website.
Take The Next Step on Your Growth Journey
Growth Marketers in the show focus mostly on one of the three big problems. Increasing the number of leads, reducing the customer acquisition cost, or improving the lead quality – that's why they are in growth in the first place. Reports from Gartner and real experience from the guests show that >70% of the buying journey is happening online.
The step-by-step Ebook guide below will help you to get started and analyze the digital buying journey on your website. Take this cheat sheet to accelerate revenue for your company. The buying process has changed, has your website experience?
Get The Buying Journey Guide
Read practical advice, best practices, and expert tips to help you become a master of your website's buying journey