In 2020, Hubspot surveyed over 3,400 marketers using expert strategies from Crayon, Litmus, and Hubspot. Data revealed that the pre-eminent goal for marketers was generating qualified leads. 
There are several techniques to captivate and engage your audience. This is an increasingly challenging goal due to the tremendous amount of information on the web: it is simple and easy for the audience to obtain the information that they need. 
To create a successful digital marketing strategy, it is essential to design engaging content. You can do this by creating a website calculator.
Generate Qualified Leads with Website Calculators In Article
Free AI-Powered Buying Journey Toolkit
Learn how to optimize your buying journey and speed up your revenue with top strategies and invaluable resources.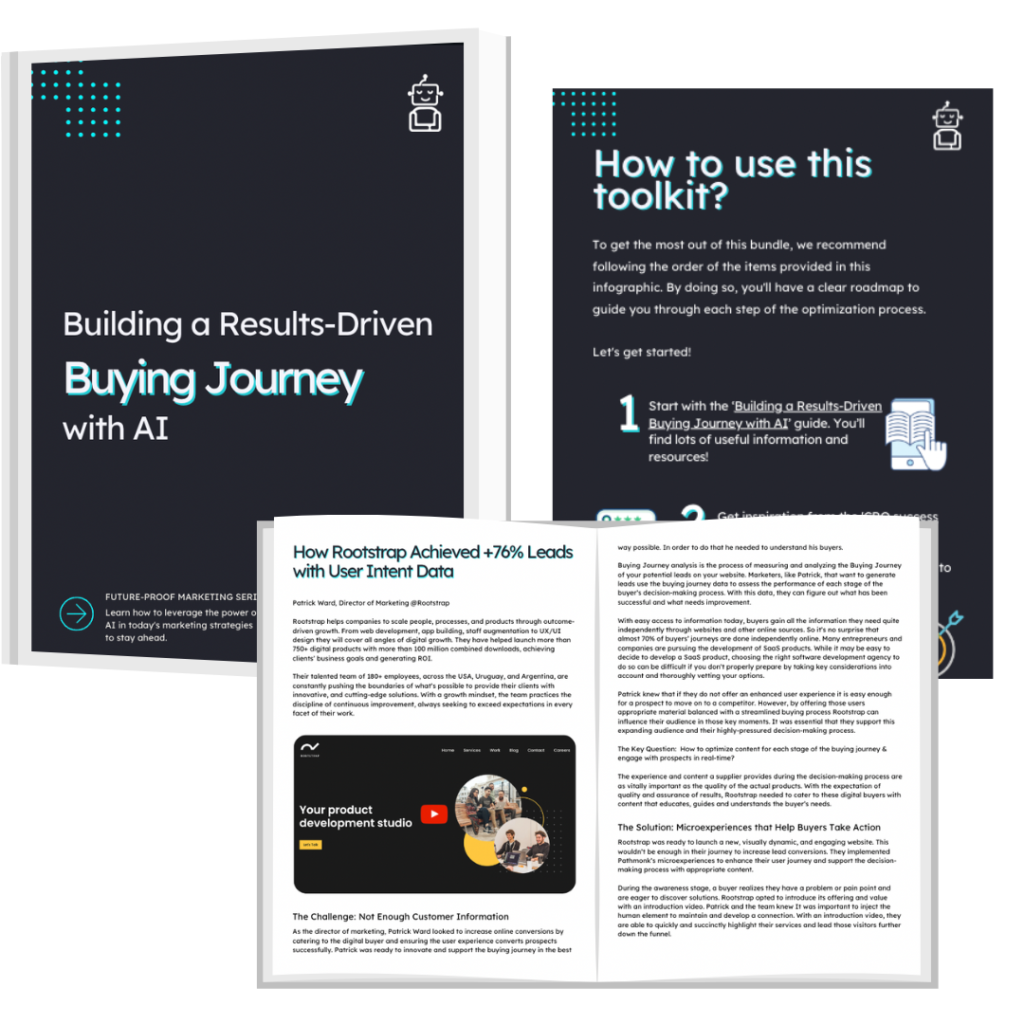 Increase Your Website Conversions & Generate Qualified Leads
Pathmonk is a plug & play website extension. It can convert more visitors into leads via Buying Journeys powered with Artificial Intelligence. Subsequently, you can increase conversions by 1.5x with your current traffic. Pathmonk is used for use cases, including the generation of qualified leads, website conversions, ABM, etc. The best way to start is to look at our demos or speak with a team member.
Perception of Value Equals Conversion
We know that 98% of website visitors do not convert while on your site. This number directly correlates to how they regard your product value. If you can convince your visitors that your product is high-value, then you can make them act on your website by offering them the right message at the right time. 
These days, most sales and marketing tactics revolve around creating a buzz and being heard above the white noise. Every other company is bombarding customers with their features at the same time which makes being distinctive and standing out from the others challenging.
A study from Demand Metric comparing interactive content (such as website calculators, assessments, configurators and, quizzes, etc) to passive content can be more effective at educating the buyer, distinguishing from competitors, being shared, and generating conversions.
Data analysis provided these findings:
During their journey, only 25% of buyers show their interest in businesses early in their visit.

Over 90% of the participants believe it is valuable to engage prospects earlier in their website visit.

About 25% of participants ranked their content as slightly or very interactive, 39% rated it at a modest level, while 36% considered their content as somewhat or very passive.

Interactive content produces conversions moderately or very well. 70% as opposed to 36% for passive content.

Comparing interactive to passive; interactive content is somewhat or very effective at teaching the buyer (at 93% opposed to 70%), differentiating from rivals (at 88% opposed to 55%), and shared (at 38% as opposed to 17%).

The most commonly faced dilemma with content marketing efforts is content does not create sufficient possibilities for engagement and interaction, as experienced by 58% of participants.

17% of participants do not have content effectiveness measures in place, while 49% use only basic metrics such as downloads or clicks.

55% of businesses in this study allocate 15% or less of their marketing resources to marketing and content creation. The study found no correlation between increased spending on content and improved effectiveness.
While there are several ways to capture qualified leads (reports, eBooks, whitepapers, and other gated content), the dilemma arises when this content cannot engage the audience.
Here is where interactive content becomes useful. The content is easier to consume and, it captivates the audience, making for a more viable alternative. One of the types of interactive content you can create is calculators. Interactive calculators are excellent sales lead generation tools because they handle the most commonly asked customer questions.
One approach you can use to attract more attention online is using interactive calculators to create content, which is usually more engaging and translates to higher conversion rates. Consider that passive content frequently leads to 20% conversion rates while interactive content is 50%. There are resources available that can help you increase the conversion rate on your site. 
An interactive calculator is a tool that can be used throughout a consumer's journey and guide them towards the bottom of the sales funnel. The calculator makes computations based on information provided by the consumer, generating a wholly personalized experience.
The interactive calculator creates tremendous value for a lead, who can get solutions to their particular problems. This makes the public look at the brand as an authority in the subject, which prompts them to want to know more about the solutions offered and ultimately become clients.
The ROI calculator is one of the more popular formats on the market because of the crucial role return on investment plays in the customers' purchasing choices. It is a unique opportunity to present the company's value proposition.
All a customer needs to do is enter information such as monthly spending and the conversion rate, to promptly calculate their ROI. In three steps, an ROI calculator computes how much the lead can save while investing in a service.
Interactive Calculators Increase Social Shares and Conversion Two-Fold
Demand Metric and Ion Interactive did a study and discovered that interactive content like website calculators better educate prospective customers. They push two times the social shares and conversions and help you be distinctive from your competition. 
So, why are more companies not exploring it? The most typical objections are centered around the time and often complex execution involved with creating an interactive piece. There was concern regarding the uncertainty of its performance.
Advantages of Website Calculators for Businesses
Interest in web calculators is steadily increasing as the enthusiasm of thousands of business owners persists. Interestingly, many continue to use antiquated methods of pricing, such as spreadsheets. Downloading a price list like that is tiresome, and understanding it is even more challenging. Website calculators can become an indispensable component of any modern website. You can use online calculators on a wide variety of websites: taxi, repair works, loans, mortgages, construction services, marketing, computer repair, furniture manufacturing, household appliances, fitting of windows, events, printing, delivery, etc.
Instant Gratification
Website calculators do not make the customers work for it. Meaning they are not time-consuming and do not require too much effort. The customer recognizes the value and interaction, and engagement increases.
Immersive Website Calculators
Statistically, speaking over 90% of customers never convert on the first interaction with your website. Even so, you want them to remember the experience and want them to come back. Website calculators leave a lasting impact and increased engagement. 
Build User Trust – Transparency
Customers want self-serve data and the opportunity to mine the information themselves. Providing customers with pricing information and answering key questions upfront fosters trust that translates to conversion. Calculators offer a degree of transparency making trust a crucial part of your relationship with customers. 
Interactive, Customized, and Engaging
Calculators interface with the client directly, making them more likely to be shared on social media. Interactivity that produces personalized outcomes makes customers up to four times more likely to disclose their contact details. Since calculators increase engagement, customers spend longer time on your webpage, which lessens bounce rates and improves onsite SEO.  Each client's journey is different. Pathmonk customizes the experience for every visitor.
 Productivity
Since online calculators can deliver exhaustive customer information relating to particular needs and preferences. Website calculators provide more than just email addresses and phone numbers. Without a doubt, they increase the output and effectiveness of your sales team. Superior data allows salespeople to target their calls and offers.
Reusable Content
Calculators are great marketing campaigns with no expiration. Once written, content read the first time might be it for most visitors. You can count on calculators to be relevant and fulfill numerous functions on different visits to your site.
Easy to Build
Calculators can go from an idea to operating tools on your site in as little as 15 minutes. Nothing else on the market does as much in that time – not writing a blog post, doing a video, or creating a slideshow – it is not realistic.
Should You Build In-House or Select a Third-Party SaaS Solution?
Building your tool empowers you to personalize it and modify it to your unique requirements. It is preferable to trying to adapt your team to a tool that was built one size fits all or for the market. No ready-made answer is going to match all of your requirements, all of the time.
The truth is that in most circumstances, purchasing a SaaS solution is almost always a more reliable and more practical option than creating a brand new tool. To determine if that is the case, you need to do these four things:
Determine what you truly need

Assess the total cost of custom development

Address relevant concerns and evaluate the pros and cons

Assess customer risks
Concerns With Using a Third-Party Tool
With a loss of ownership over a tool, you are at the mercy of others when it comes to resolving issues.

Third-party tools may become more costly once you have paid for a subscription – costs may increase.

You are more restricted with the customization available to the software, so you may use additional tools to get all the features you need.

Once locked into third-party contracts, you might get tied into a tool for years. This may become problematic if you find it is not what you need or is insufficient. 
Interactive calculators are interactive content, which is more engaging than passive content,  leads to higher conversion rates. Calculators immediately respond to the most commonly asked questions customers have and provide information in a manner that is transparent and to the point.
Calculators are easy to make and created according to the needs of your customers. Hire a developer to create your calculator, or you can build it yourself using our platform, without any prior programming knowledge. Pathmonk makes building an interactive calculator easy. You can design your own from scratch according to your needs.
As a marketer, you are always trying to improve the ROI. The most important thing is to generate new leads. This way, not only can you have the income from your current clients, but from a perpetual stream of new ones as well.
Smart website analytics made simple
Understand your user intent, buying journey, and enhanced attribution in one unified hub. Up to 10x conversions.