E-learning – the process of studying subjects through mainly technological resources – has been on the rise for many years now and learning how to successfully increase conversion rates can help you to succeed in the industry. 
Educational institutions, home schoolers, corporate training programs, and even curious self-improvers are turning to these courses to fill in the gaps in their education processes or to replace the traditional methods completely.
Naturally, this has created a potential growth market, with a lot of possible sales – but only if you understand how to approach the market, pitch your e-learning course, and improve your overall conversion rate.
A Real Growth Opportunity
This market is expected to see significant growth over the next five years, which is mostly connected to the increasing revenue potential as the costs of content creation and delivery go down.
There are, of course, other factors that can contribute to the consistent growth of this market, including:
Higher demand for skilled and educated workforce
Increasing dependence on social media and mobile apps as learning tools
Emerging economies opening new sales possibilities
The changing educational environment
Corporations providing new avenues for advancement
Education institutions that require backup plans for unforeseen global events
Increasing interest from government programs and initiatives
The e-learning market just keeps growing. As of 2019, estimates put it around a $200 billion industry, and, so far, all the trends indicate a stable marketplace.
In other words, this is a very appealing opportunity with which to get involved.
And a lot of companies have gone all-in on the e-learning. With the availability of cloud computing, AI systems, and other technologies, it's easier than ever to get involved with this trend.
Of course, not everyone sees the ROI that they expect – especially if they go all-in without a solid plan, an effective website, or the tools to encourage engagement, subscriptions, or purchases.
There are, however, some things you can do to increase your conversion rate through performance analytics and forecasts to start building a stronger, more dedicated audience.
Increase Conversion Rates in 10 Steps: How to Sell Your Online Courses
Your conversion rate is, simply put, the number of people who take a certain action divided by the number of people who arrived on your website.
When we say: "take a certain action" we usually mean "make a purchase," but that doesn't have to be the case. These actions could include everything from signing up for a newsletter, trying a demo of your e-learning program, or even just clicking through to another page with more information.
Consider the following methods as you plan your strategy to sell your online courses and increase conversion rates. 
1. Create Sellable Content
All the conversion efforts in the world aren't going to pay off if the product they're selling fails to meet the demands and expectations of the potential students. So, when you create your content, be sure to:
Implement a usable course format – Instructional design is critical to creating effective courses that provide real value to your learners.
Use multiple types of media – People learn in different ways, so use audio, video, images, and text to convey your lessons.
Keep them progressing – Design a series of lessons that will help each student progress from point A to point B, C, or even Z.
Find your voice – The tone of your content should match your own personality and appeal to those you will be reaching out to.
2. Create an Appropriate Pitch
Everyone has different needs, and your pitch has to match the material in the course and the people who will be studying it. A goofy/silly pitch isn't going to appeal to people who want to learn the nitty gritty details of the financial world.
Answer some important questions to determine your pitch:
Who is this course for? College students? Corporate managers? Product customers? Do-it-yourselfers?
How will this course provide benefits for the student?
What will they be able to do when they finish the course?
Use the answers to these questions as the foundation and value proposition of your e-learning courses.
Just because one pitch worked one season, it doesn't mean it will work for the next. Sometimes, people just get tired of seeing the same pitch over and over.
Different offers are important, because people respond to different things.
You might try offering a free lesson one month. Maybe next month you bundle some of your courses together. Perhaps it's time to release some new videos to support the courses that you had previously released.
Keep mixing things up and discover new ways to improve your conversion rate.
4. Use A/B Testing to Zero in On Your Audience
Every element of your sales page is testable.
A/B testing is the simple process of setting up two different pitches and testing to see which one performs the best.
You could, for example, discover whether it's the depth of your courses that appeal to your students, or if it's the lower price point that will attract the most subscribers.
It's possible to test even the smallest changes, which means we don't have to guess about how to improve a campaign. With machine learning and AI technologies, we can collect and test real data to make informed decisions about future website changes.
5. Create an Effective User Experience on the Sales Page
If your sales page is too difficult to parse, or the visitor simply isn't sure what the next step should be, then the conversion rate is going to be pretty low.
You need to optimize the sales page for conversions by providing the necessary information and encouraging engagement within the first few seconds.
There are two things to focus on in this case.
First, the visitor must know what it is they can do on the page.
If they have to hunt around the for a form or a button or a price list or anything else that could help them through the buying process, they're just as likely to click back and try a different offer.
Second, they need to know why they should work with you instead of your competition.
There are a lot of people out there offering a range of e-learning packages. What is it about your courses that make you unique? What do you do that no one else does?
Put that answer on the sales page.
Free AI-Powered Buying Journey Toolkit
Learn how to optimize your buying journey and speed up your revenue with top strategies and invaluable resources.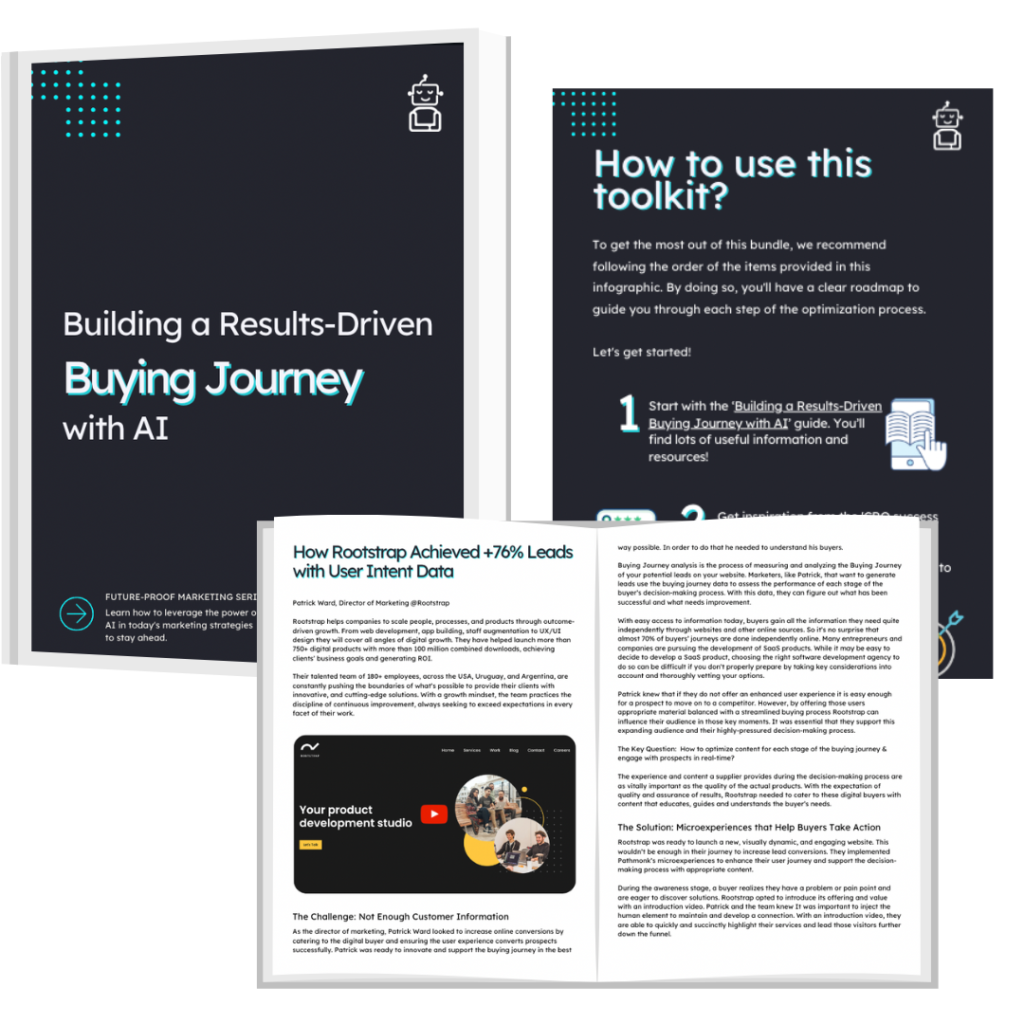 When we shop on the internet, we know what we want. And most of us know how to spot sales language that is, well, a lot of sales language.
You can only obfuscate for so long. You can only claim that your courses are "the very best" so many times before someone is going to demand some proof for that claim.
Your pitch needs to be very clear about what they can expect for their investment.
Use the titles and headers of your page to your advantage. Stick with brief phrases that highlight the value of your offerings and use a page design that is clean and clear.
Customers prefer the direct approach because it helps them quickly find exactly what they want.
More importantly, they will feel more confident about making a purchase (which contributes to #7 below).
There are a number of things that could become a speedbump on a customer's path to conversion.
A poor user experience, insufficient information, too much information, unappealing price structures, or anything else could slow the buyer's journey.
It's important to minimize this friction to keep someone moving from the browsing stage to the final checkout.
There are several elements that can help avoid this kind of friction. You can:
Include icons or images of certifications and awards
Highlight testimonials
Use obvious and effective calls to action
Display real results
Offer flexible payment options
An e-learning program is going to take some dedication on the part of the learner. If they're going to spend the time on a series of lessons – or even just a single lecture – they will want to know that it will be worth their time.
A simple demo may be the answer.
Or, if you have a series of lessons, you could give away the first one for free.
If you have an extended lecture, you could allow them to see one of the most interesting parts.
If you use a lot of interactive materials, you could share a few of those, just enough to give them an idea what they classes will be like.
"Free samples" like this help eliminate potential friction between the discovery and the purchase because they'll know that this is something that matches their interests.
A secondary offer may be the best way to keep your customers engaged.
Sometimes, someone might explore your site and find something really close to what they want, but then suddenly decided it wasn't quite hitting the nail on the head after all.
Those potential customers could back out and start their search all over again (either on your website or someone else's), or they could just glance to the side of the sales page and see a number of alternatives and recommendations that are very relevant to their needs.
There are many ways you can offer alternatives to your clientele. One of the most effective ways is to use what you already know about them to make better recommendations.
Modern technology makes it possible to analyze their behavior on the site – as well as the behavior of previous visitors who had similar interests – and make another offer that is highly relevant to their needs.
10. Make an E-learning Series that Encourages Repeat Customers
E-learning is going to require a time investment from your learners. They're going to have to dedicate enough time to really engage with the lessons and complete the course.
When they're willing to do that – and then come back and try another lesson – that's the real success.
As you increase your conversion rate through natural methods that provide real value for your customers, you will begin to build an audience of eager learners who will be quick to use your services again and again.
And that just might be the best lesson of all.
Smart website analytics made simple
Understand your user intent, buying journey, and enhanced attribution in one unified hub. Up to 10x conversions.