A good conversion rate optimization agency is hard to come by, especially if you don't even know where to start looking. On many occasions, you need to sit down and reflect on what your company needs, so you can hire the best experts to help you achieve it. Read on so we can assist you in your search. 
Four Things to Consider When Redesigning Your Website
Free AI-Powered Buying Journey Toolkit
Learn how to optimize your buying journey and speed up your revenue with top strategies and invaluable resources.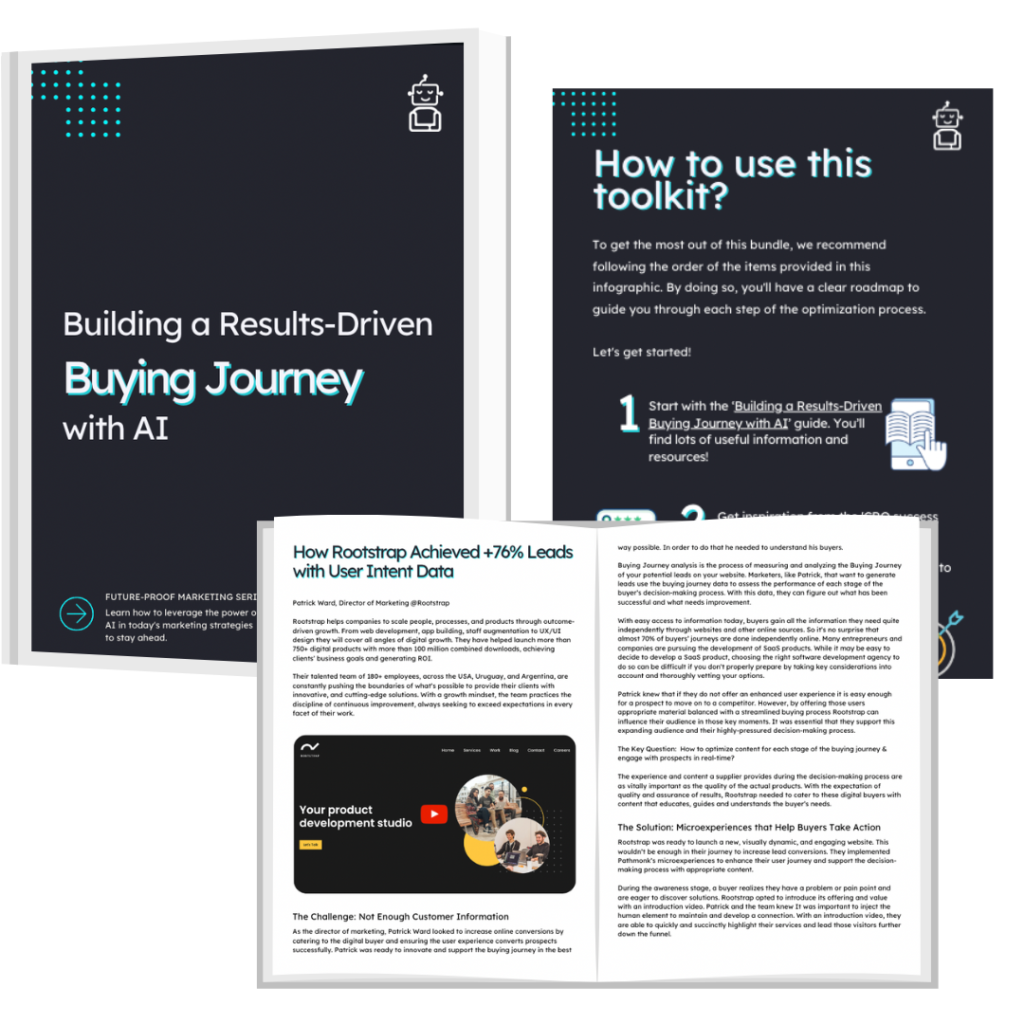 Determine Your Goals and the Outcomes You Desire
If you want to hire conversion rate optimization services, you need to be honest with yourself about your needs. There are thousands of companies out there, but you can't find the best one if you don't even know what you're looking for. 
The best way to find out what you need is to ask yourself what's making your business stuck, and what can you change to get more traffic. Additionally, you should pay attention to what your followers say – you might be missing something important there, too.
The Difficulties of Conversion Rate Optimization
Implementing strategies to optimize your conversion rate is not overwhelmingly difficult. However, most people stumble upon different small issues when they're going through the process. Check out the most common obstacles: 
It Requires Many Resources  
One of the most important difficulties you may face when trying to optimize your conversion rate is that you need a lot of human capital. 
Top businesses often hire a team of experts to deal with all the details of the optimization process. Nonetheless, some tools might make everything easier, such as Pathmonk. 
It's a Challenging Process  
Conversion rate optimization is not easy to understand. You need to know about statistics and more to comprehend the data before you and apply the strategies that can make your business grow. 
Although your knowledge about statistics doesn't need to be extensive, you do have to know about statistical significance P-value, and other important concepts.  
It's Hard to Get Leadership Buy-in  
You need leadership to buy in to make CRO work, which requires you to convince C-suite leaders. In many cases, that's very hard to do. 
Conversations with C-leaders are often frustrating because they don't understand the importance of optimizing their conversion rates. However, with Pathmonk, they can easily visualize the information and might have a less challenging time overall. 
Red Flags to Keep in Mind 
Conversion rate experts always say that an essential part of the process is analyzing every detail of the website to determine aspects that need improvement. 
When you analyze your website, you should look at the information from tools such as Pathmonk, which offers a detailed view of data that's easy to comprehend. If you notice weakly worded or misplaced CTAs, ambiguous value propositions, and complex checkout procedures, you may be dealing with common challenges faced by companies with low conversion rates. 
Characteristics of Great Conversion Rate Optimization Services
The good thing about your conversion rate is that you can optimize it if you get help from the right people. However, to do that, you need to find them first. Take a look at the most important characteristics of high-quality conversion rate optimization services: 
The Services Are What You Need
A good company is specialized in what you need. If the business offers many services and doesn't focus on your specific requirements, you might want to look for another option. 
When you look at a company's services, you should be able to quickly determine how they can help you. The more the business is specialized in specific things, the better it is. 
Getting involved with a company you can't afford on a long-term basis is the worst mistake you could make.  
Although hiring conversion rate experts might help you increase your revenue, you should never rely on the profits they generate for you to pay them. The general rule of thumb is that you should have the payment for at least three months in advance when you hire them. 
Obstacles are very common when you're optimizing your conversion rate because you have to quickly identify problems and implement effective solutions. 
Therefore, you need a company that helps you understand what's happening and gives you occasional data reports.
How to Work with Conversion Rate Experts
Working with conversion rate experts might be challenging if it's your first time hiring them or if you've had disappointing experiences in the past. Thus, you need some ground rules to make sure things you feel comfortable. Check them out: 
The most basic rule is that you shouldn't hire a company that can't give you what you need. Therefore, don't be afraid to ask for it. If they can't deliver, it might be time to look for a different option. 
Once you ask yourself the questions mentioned at the beginning, you can specifically tell the conversion rate experts about your goals. Then, make sure to listen to their professional opinion and implement their suggestions. 
You should be working with a conversion rate agency that has hundreds, or even thousands of clients each month. They should be professional at all costs. 
If the company is the best, they can follow specific guidelines and deliver new data according to your deadlines. Thus, you should always know what needs to be done and monitor the results to determine if the company is effectively helping you or not. 
Fostering a good relationship requires both parties to work together. Even though the best conversion rate optimization agencies offer an unmatched customer experience, you should also put in some effort to help. 
The agency should have access to different information sources to help you. However, you also need to update them on many things. Make sure you're a team player and talk about your goals, so you can work together and achieve them.
Best Conversion Rate Optimization Agencies
There are so many incredible conversion rate companies that it might be difficult to decide, especially if you don't know much about the subject.  
After reading the previous information, you should have a clear understanding of what you need. Now, all you should do is examine the next options and choose which company is the best one for you. 
Pathmonk  
If you want to lift conversions with ease and quickly get more leads, Pathmonk is the best conversion rate optimization agency you can hire. It's an innovative way to improve your conversion rate because it uses Artificial Intelligence to give you the most incredible results. 
Many reputable companies choose Pathmonk. It's easy to understand, and mainly because it offers fantastic results. You just have to install the extension to your website and start seeing how it changes everything about your business. 
Pathmonk impacts the journey of each of your customers because it changes the way they perceive the value of your product. The company understands you need a clear message to convert, which is why it focuses on giving that to visitors.  
When you hire Pathmonk, you work with AI that predicts the most likely next step visitors might take while visiting your website. After that, the software shows them appropriate content to maintain your audience's attention, which results in the generation of interested people scrolling through your site, and eventually, increased revenues. 
Pathmonk isn't the oldest company in the market, but it's one of the most reputable agencies to hire right now if you want help from an effective AI. Therefore, don't miss a chance and check out everything it offers. 
Neil Patel Digital 
If you want to optimize organic traffic and convert it into customers that pay you, Neil Patel Digital might be a good option for you. 
Neil Patel Digital is one of the most famous companies to help you with conversion rate optimization. It offers you innovative and effective tools and strategies to improve your conversions. 
Additionally, Neil Patel Digital offers a personalized journey. Hiring the company is not only your ticket to getting detailed reports with results and changes to implement. You can talk with an expert on the phone and get a completely customized experience from the first moment you tell them about your business. 
WebMechanix 
On many occasions, you may need help managing everything at once. Running a website is not easy because you have to focus on different details to make everything work. Thus, sometimes you might feel like you fix one problem while seven more things are collapsing in the background. 
With WebMechanix, you can get different teams to help you. The staff can assess your website's issues and provide you with strategies that align with your goals. 
Therefore, WebMechanix is one of the ideal companies to hire if you think your marketing strategy is falling apart. The different teams can help you put it back together.
If you are a marketer, you know the importance of hiring a conversion rate optimization agency to help you grow. Now that you understand the basics and have some options to choose from, reflect on what your website needs and start implementing the changes to make your business grow.
Smart website analytics made simple
Understand your user intent, buying journey, and enhanced attribution in one unified hub. Up to 10x conversions.