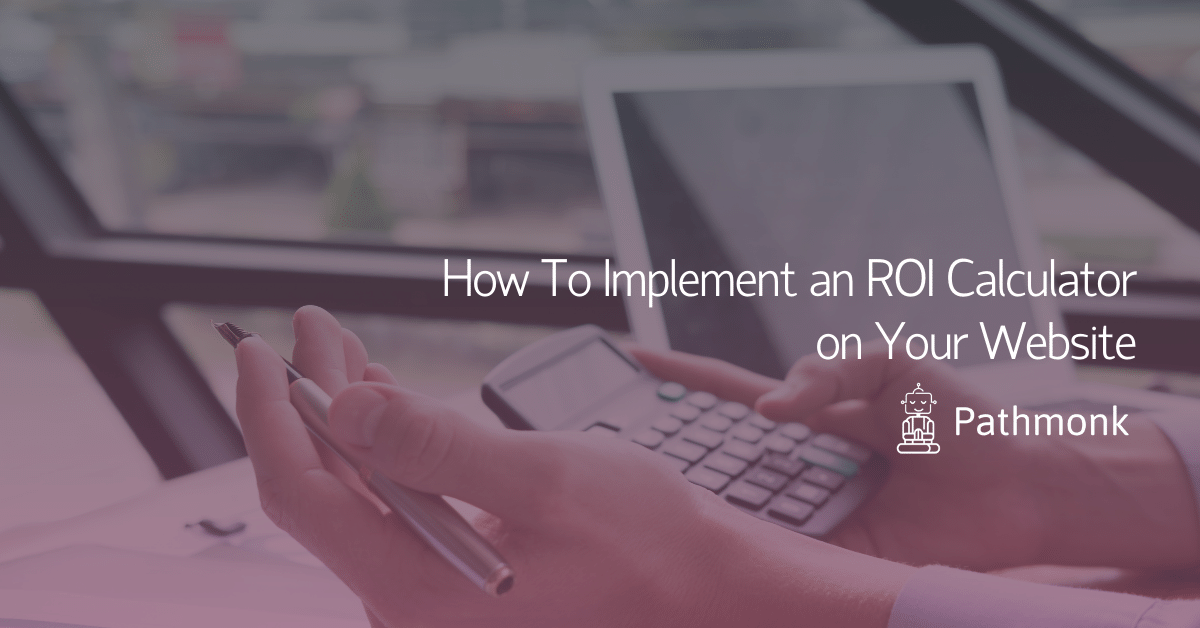 An ROI calculator on your website might be what you need to give your customers the peace of mind they are looking for.  
In the new age and living in an internet-based world, there are multiple ways to attract a potential client. There are a lot of different forms of marketing, which creates a kind of noise. Too many websites to choose from makes it tough to stand out from the crowd. 
By adding a return-on-investment calculator to your site, you can build your customer's trust from the start. That is what you want in an ever-changing world of internet marketing. That is how you build rapport with customers and future clients. 
There are multiple ways to go about this by building your calculator, using leverage or repurposing tools, or using Pathmonk as a solutions provider.  
Whatever you choose to do, remember gaining a human's trust online is getting harder. Having a calculator makes you more reputable and builds trust by solving your customer's first question. How much does this cost me? How much does this save me? Google statistics show that these two search terms are wildly popular when people are searching out products.
Four Things to Consider When Redesigning Your Website
Free AI-Powered Buying Journey Toolkit
Learn how to optimize your buying journey and speed up your revenue with top strategies and invaluable resources.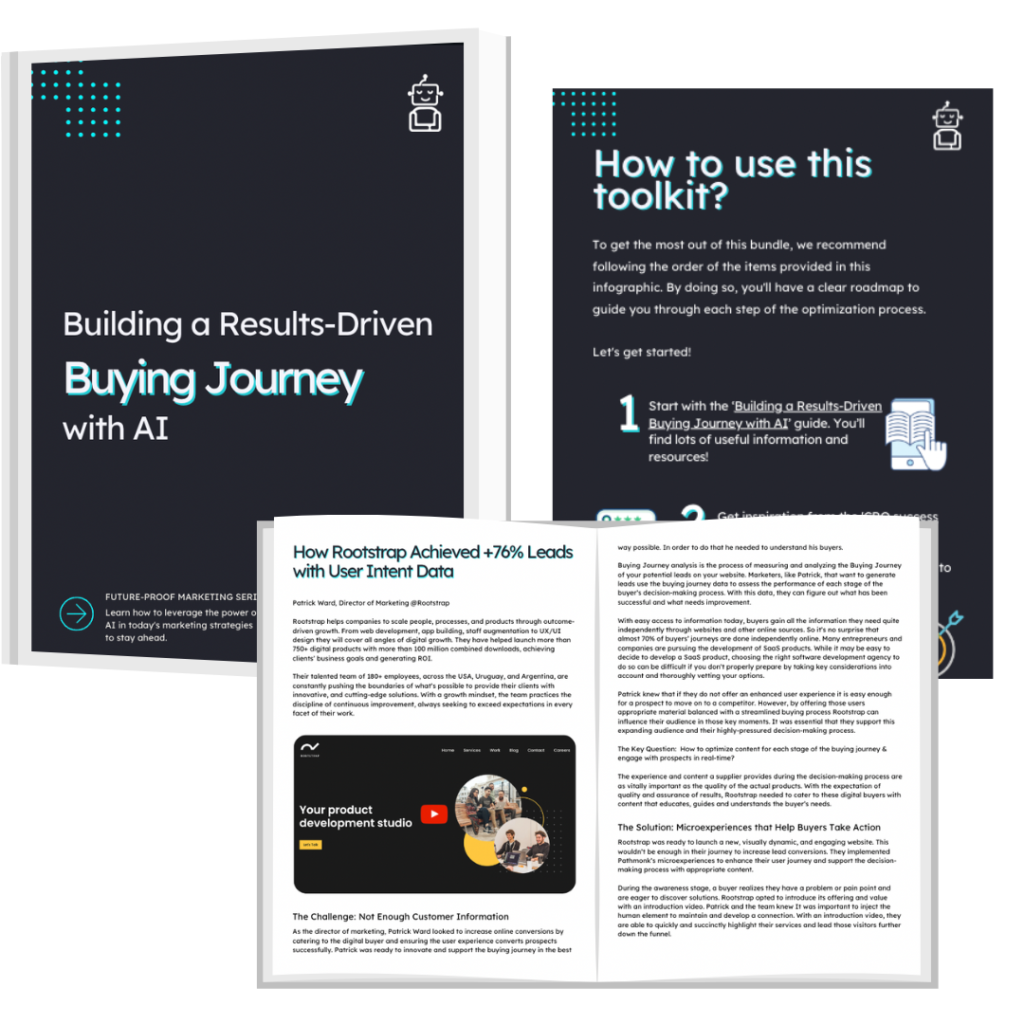 How to Make a Website Calculator
The steps in creating your ROI calculator are no easy feat and require learning and development. Your company could spend time trying to build it in-house but might run into some hiccups along the way. These hiccups can cost you time and money, which you are trying to alleviate when testing a new marketing strategy. 
You can read about some of the ways of developing your own ROI calculator over here.
There is a high level of complexity when building website calculators, as programming knowledge is required. Often things might get too complex, and specific steps might be left out. That could bring down the effectiveness of your calculator. 
You need it to be effective if you want to get the most out of your marketing efforts. 
You could have a simple one that calculates your BMI on a weight loss website, or you could have a complex one that figures out your ad spend on your Facebook marketing campaign. All of this requires development knowledge, which would either need to be acquired or hire someone with the skills. 
Another option is to train your in-house development team, but this could cost you a pretty penny. Return on investment, in this case, does not seem quite logical.  
Teams working on development can often run into problems when trying to get the calculator to link with various CRMs. That can slow productivity as you struggle to get data out to your salesforce in time. These are all crucial if you want to see your ROI calculator work for your business. 
You can also create a buying journey for your visitor through the solutions that Pathmonk offers. Heading over to their website, you find that with some of their information you can increase your conversions by up to 1.5x. That is a lot of growth, especially with the internet that is so full of noise.  
They do this by catching the interest of your visitor before they decide to leave your site. It is the most crucial time, as you never know if they might be back again.
Landing Page Before Interactive Calculator
One step to remember when creating your interactive calculator is the landing page. Yes, an effective landing page is a chief component to good conversion. 
It is always good to have a CTA (Call to Action) in place that makes your visitor want to click. By clicking, they know what they are getting themselves into. They fill in the specific information in the calculator and get the answers they want to know. That gives assurance that the visitor needs.  
Trying to keep your landing page to a single click CTA is the most commonly used strategy to get people straight to the website calculator. So, keep it simple when developing that landing page.
What is a Good Site to Leverage Information?
Now there are plenty of sites out there that teach you about all these processes. You can leverage this information to make your website calculator marketing more successful. 
One such site is called Outgrow. They provide a free eBook on this topic, various other courses, and on-demand webinars to help you get up to date with lead generation best practices.  
They help companies create a functional website calculator and landing page based on the services that you provide. For example, you are a website development house, and you are looking to get more customers. It might be a good idea to add an interactive calculator to your website so that customers can get an estimated price for your diverse range of services. 
Previous work done by Outgrow yielded a 66% click-through rate, which shows how effective a good ROI Calculator can be in your marketing campaign. 
They also offer a yearly subscription service that can help to get you to start with your ROI calculator marketing campaign.  
Charging for simple logic steps and often not delivering to specific CRMs is where the downfall comes.  
You want efficient software that will integrate fully with the CRM of your choice. Now there is nothing against Outgrow, but it does not record the steps at which the visitor drops off in the website calculator. That is essential information when trying to optimize your campaign. 
If you wish to optimize your marketing campaign, this might be a solution but please research all the pros and cons before your decision.
Pathmonk – Interactive Website Tool
There is a solution mentioned earlier that became available in 2020. Pathmonk has assisted many websites with their conversion ratio successfully for the last year. 
They have an incredible AI system that auto-detects the buyer persona when on your site. That allows them to deliver a customer buying journey for each visitor. All information is stored on the system and relayed to the client when required.  
The backend is user-friendly and intuitive and is simple to set up on your website. There is a live help option where the friendly team at Pathmonk is there to assist. 
Using a tool like Pathmonk makes your interactive website experience flawless and helps you convert up to 150%. It is the perfect website extension for automatic lead generation. 
Allow Pathmonk to track the steps of your visitor's journey. To create custom feedback to attract your customer to the product that suits them.  
Over 35 features in the package provide everything from behavior tracking, experience management, and even website personalization. 
There is a built-in ROI Calculator created which helps you develop your next interactive calculator marketing campaign. That is invaluable in the ever-changing world online. 
Why would you not want to increase your leads and simplify your website marketing? Go check out these reviews of Pathmonk, and see what this extension has done for other clients.  
With all the great features offered by Pathmonk, why would you not join us on a journey with them to not only save you time? Also, resolve the complexity of learning the skills required to code your ROI Calculator. 
Marketing teams love using the extension as it is an all-in-one solution that can make your marketing campaign work for you.  
Head over to their website to request more information on designing an interactive calculator solution that works for you.
Looking at all your options might be a daunting experience when trying to decide what to do. 
You need to decide what is best for you and your business marketing strategy, but if you are looking for conversions, proof shows that an ROI calculator delivers a great click-through rate. 
Gather your team together and weigh up your choices to consider all the time and effort required to develop your own. 
Think about leverage or repurposing tools that might find some incompatibility with the CRM that your company uses. It is best to keep your salesforce updated with the latest leads to keep business moving. 
Taking the next step and looking for an automated service might be the best thing you do for your business. Customizable AI Software from Pathmonk delivers beautiful, personalized journeys for potential buyers that predict their buying triggers. 
Read about all 35 features on this rich website extension that your marketing coordinator will love. You would be silly not to use this software to help convert more leads for your website. 
Internet data is what it is all about for Pathmonk, and they will deliver micro-moments throughout the buyer journey. To help fulfill a higher conversion rate for your campaign.  
Stand out from the crow and sign up to view a demo. See what they can do for your website conversion rate.  
We hope that this article was enlightening and helps you make the right choice for your website.
Smart website analytics made simple
Understand your user intent, buying journey, and enhanced attribution in one unified hub. Up to 10x conversions.