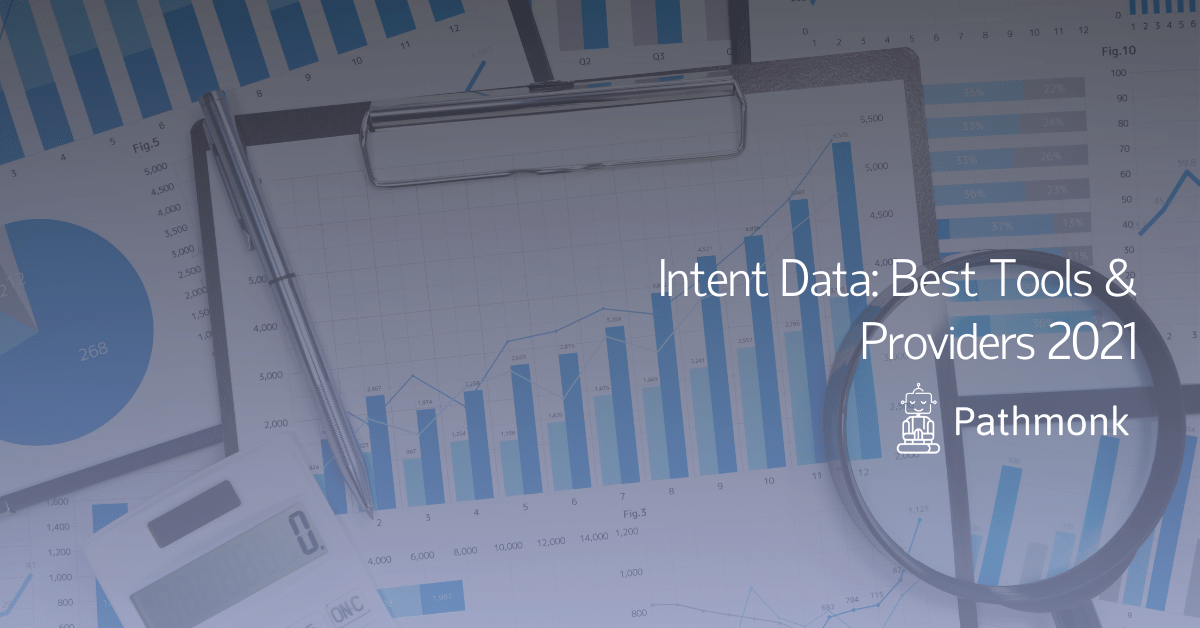 Behavioral patterns have always been a staple in any marketing effort. Unfortunately, some of the more useful information is seemingly out of reach. So, what does that mean for such data-driven practice?
While it sounds like a huge hurdle for marketers everywhere, some of the insights are more realistic than you may realize. B2B engagements, much like their B2C counterparts, are often heavily research-based. If not, organizational marketing funnels would not be as effective as they could be.
What you may not realize is that businesses use the same channels as private consumers to communicate that they are in the market for products and services too!
On one hand, there your company that is doing the marketing using various strategies to communicate its offerings. On the other hand, potential buyers are communicating what they want without being prompted. What if you could use the latter to fine-tune your marketing communication efforts?
This is where intent data comes into the mix. Marketing is a very expensive discipline, and when done well, businesses utilize their budgets that much more effectively. Intent data providers exist to yield invaluable insights that bolster marketing efforts beyond imagination. 
Today, you learn all about what makes a good intent data provider and a few alternatives that are out there. Additionally, you learn why one stands out among the rest.
Free AI-Powered Buying Journey Toolkit
Learn how to optimize your buying journey and speed up your revenue with top strategies and invaluable resources.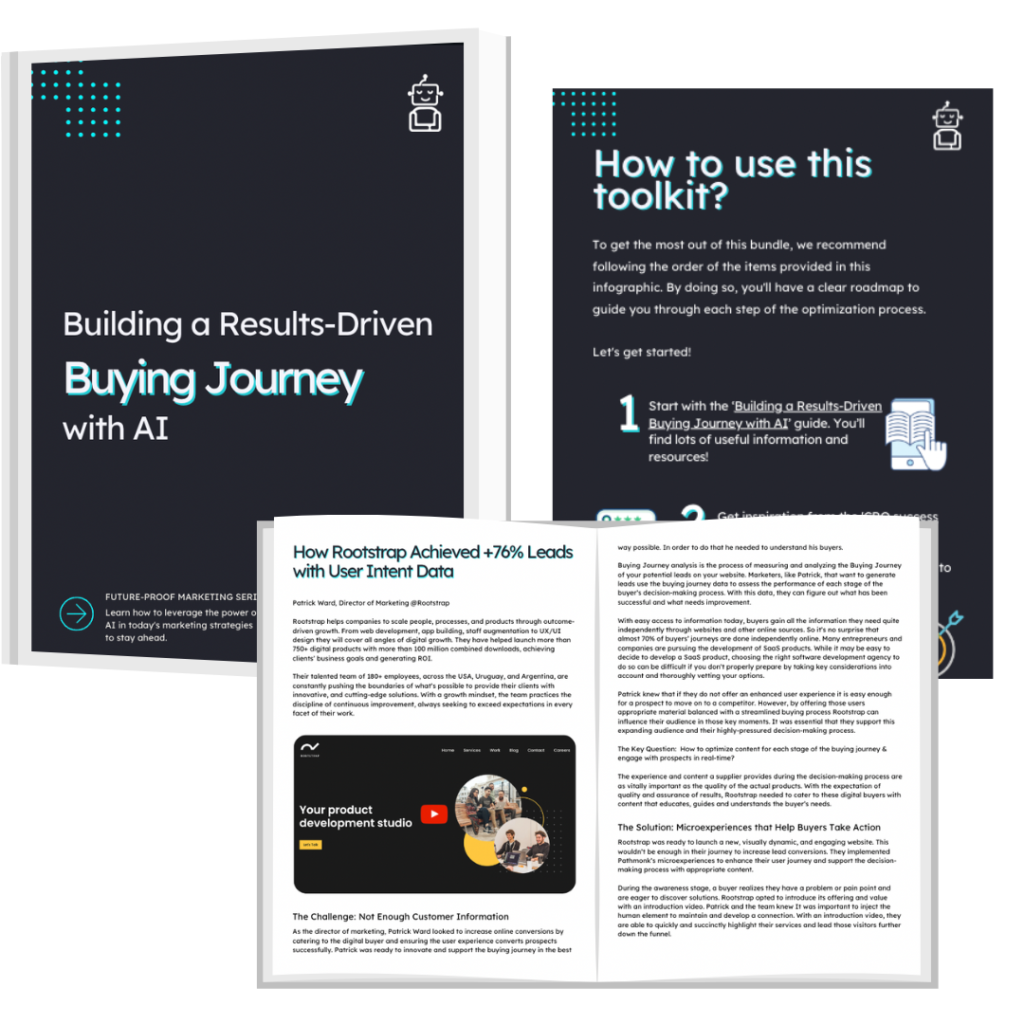 What Characterizes Good B2B Intent Data Providers?
At the most basic level, these service providers should be effective at identifying intent. After all, it is in the name 'intent data vendors,' isn't it? When a business is in the market to purchase a product or service, the best way to measure how well you can capitalize on that intention is through your conversion rates. 
So, you could say that the best intent data companies are the ones that help you to create more leads out of visitors, which eventually translates to greater conversion levels.
If you look at social media communities, you can see the principle of this model unfold in a more basic way. No one can argue against how extensively these platforms are used. Many businesses see that as a chance to start capitalizing on what are effectively high-traffic ad channels. So, what you have is a system where the people who may potentially be doing the buying have all effectively gathered in one place. Businesses can then create their own pages on these platforms and use advertisements to put their names out there.
Potential buyers may visit these business pages and can even ask a wealth of simple queries without committing to a purchase. These visitors can also indicate their happiness with various business posts using the 'like' button feature.
Again, no commitment has been established, but the businesses can see and reach out to these people who are making comments, asking questions, and indicating what they like. Again, there is a huge difference between what is happening here and clear intent, but the same principle of focusing marketing efforts on those who have displayed greater attention applies here.
To sum all this up, good intent data vendors add something to your current conversion funnel to make it more effective. You get to start using the power of analyzing intent based on visitor actions. More than half the world was engaging with the internet in 2019, and one can only assume that that number is higher today.
It is why you need a web presence, and more importantly, why you need to utilize strategies such as intent data capitalization correctly. So, why don't you carry on and have a look at the providers you can consider below.
Some Top Intent Data Tools
ZoomInfo's biggest selling point is how comprehensive it is as a data-driven solution. Not only does the platform provide you with the various insights you need, but it also supplements this by offering you the appropriate technology to stand tall.
It is also known for its ability to integrate with a host of other platforms, which means instead of wondering how you can fit it into your workflow, you simply allow the automated assimilation to take place. As far as intent data goes, you can get it and act on it with sales prospecting, targeted outreach, territory planning, and even lead scoring.
There is a lot to unpack with ZoomInfo, and it should end with your complete understanding of whom you may be marketing to, before you even plan your approach.
Demandbase operates on the principle of connectivity, which is a very valuable attribute in today's marketing landscape. One of the major issues with pinning down and securing potentially successful B2B engagements is the fragments of data that sit on different platforms in different places.
So, Demandbase is one of those B2B intent data providers that use account-based management as a strategy. In other words, you build a profile of each potential lead, which is called an account. By using this account, you can effectively engage these prospects across various platforms using insights that have progressively accumulated.
You then end up with a unified approach to your marketing style, which should theoretically make lead closure that much more effective.
Leadfeeder is one of those intent data providers that do exactly what you expect, but at an incredibly granular level. It may not have built-in scoring metrics and all those bells and whistles, but it is incredibly effective at pointing out which companies have been visiting your site and exactly what they did while they were there. No one needs to tell you how useful that kind of information can be to just about any marketing effort.
The insights you get have customizable displays since you can change the default format. Take advantage of some very effective data filtering tools that may either be built-in or created by you. Imagine being able to sort company activity based on demographics, behavior, location, etc.
While it does not have an extensive feature set, what it does have is solid integrations with Zapier, email marketing tools, and CRM's. Therefore, you can capitalize on the raw data you get to act elsewhere.
Here is a platform that took an incredibly unique approach to collect valuable potential buyer insights. While many other intent data tools gather information via other platforms, such as your website or an external page, G2 Marketing Solutions uses its own system to give you all the data you need.
How does it do that? Well, it just so happens that G2 is a place that buyers use to help them figure out which companies they should be considering purchasing products and services from. Businesses can indicate the attributes of the solutions that they need and the unique preferences that they have.
There is a whole review system built into the workflow, where the said potential buyers can view what others have had to say about the product and service providers they may be considering.
For a business on the other side of the fence that hopes to market its offerings to other companies, an upgraded G2 account can get you there.
With this account type, you get to see the kind of preferences buyers have indicated, as well as the validated customer feedback you are getting. You can also respond directly to these reviews and comments, which could be another marketing strategy.
Why Pathmonk Towers above Alternative Intent Data Vendors
All the platforms above bring tremendous solutions that have helped numerous businesses. Be that as it may, Pathmonk is in a League of its own. That is because it plugs artificial intelligence into your website's conversion funnel that provides impressively detailed, actionable insights, which can lead you to the kind of results you are searching for.
Your powered-up sales funnel then includes a customizable journey for each potential client that goes through varying forms of four defined steps:
Awareness – The aim here is to engage more visitors and ensure they are spending longer on your website. In the same breath, it is all complemented by reducing your bounce rate.
Consideration – Businesses tend to buy into products and services that seem trustworthy. Your resources such as testimonials, case studies, white papers, videos, etc., come in here to increase the perceived value that you create in the minds of potential customers. While you are improving your trust level, you are also collecting insights.
Decision – At this stage, you are capturing visitors on every page at any time. You can get and focus on lead scores, expected deal values, buying probabilities, etc. As you qualify more leads, you can fast-track the hotter ones.
Closing – Take advantage of Pathmonk's integrations and send your various leads and sales insights to your CRM. You can easily shorten your sales cycle while closing more deals and giving attention where it is needed. 
The customized experience that each visitor has is where Pathmonk's strength lies. Imagine engaging micro-moments that automatically manage each visitor's interactions in small increments from the instant of the first visit. This feeds into the buyer persona insights you get as you view the companies that are browsing your page.
You cannot underestimate the value of data in marketing. If nothing else, intent data providers, such as Pathmonk and others prove how important these kinds of insights are to your attempts at conversions. If you are still not convinced, imagine that recommending the right project to the right consumer increases the chance of purchase by 70% when compared to someone who may have randomly stumbled on your site.
Smart website analytics made simple
Understand your user intent, buying journey, and enhanced attribution in one unified hub. Up to 10x conversions.