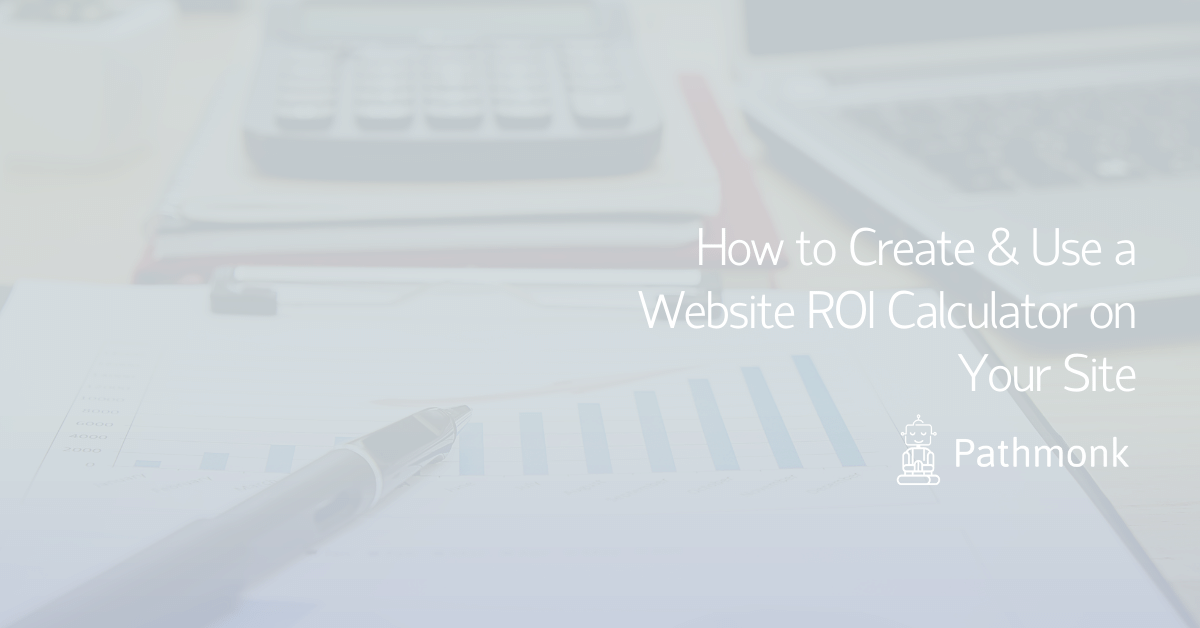 Lead generation comes in many forms, and interactivity is crucial here. However, what can you do to build your leads on your website, gather more of them, and have an excellent sales process that closes more deals?
Ultimately, having a website ROI calculator can play a key role in lead generation. When you incorporate calculators, you can engage with prospects. 
Throughout the years, SEO and web design companies have looked for better ways to deal with potential customers. The need for interactive forms and popularity with prospects led to adopting ROI calculators for websites as a lead magnet and resource. In a sense, it's a tool that's leveraged throughout the sales process.
Agencies aren't doing this because they enjoy mathematical computation. Instead, it's done because it's effective, generates more leads, and helps you close more deals. The rationale driving this is quite straightforward: to close the sale of your service or product, you must have a perceived value that outweighs the cost. Once you do that effectively, you can close more deals and demand higher prices for the products.
How to Create & Use a Website ROI Calculator on Your Site In Article
Free AI-Powered Buying Journey Toolkit
Learn how to optimize your buying journey and speed up your revenue with top strategies and invaluable resources.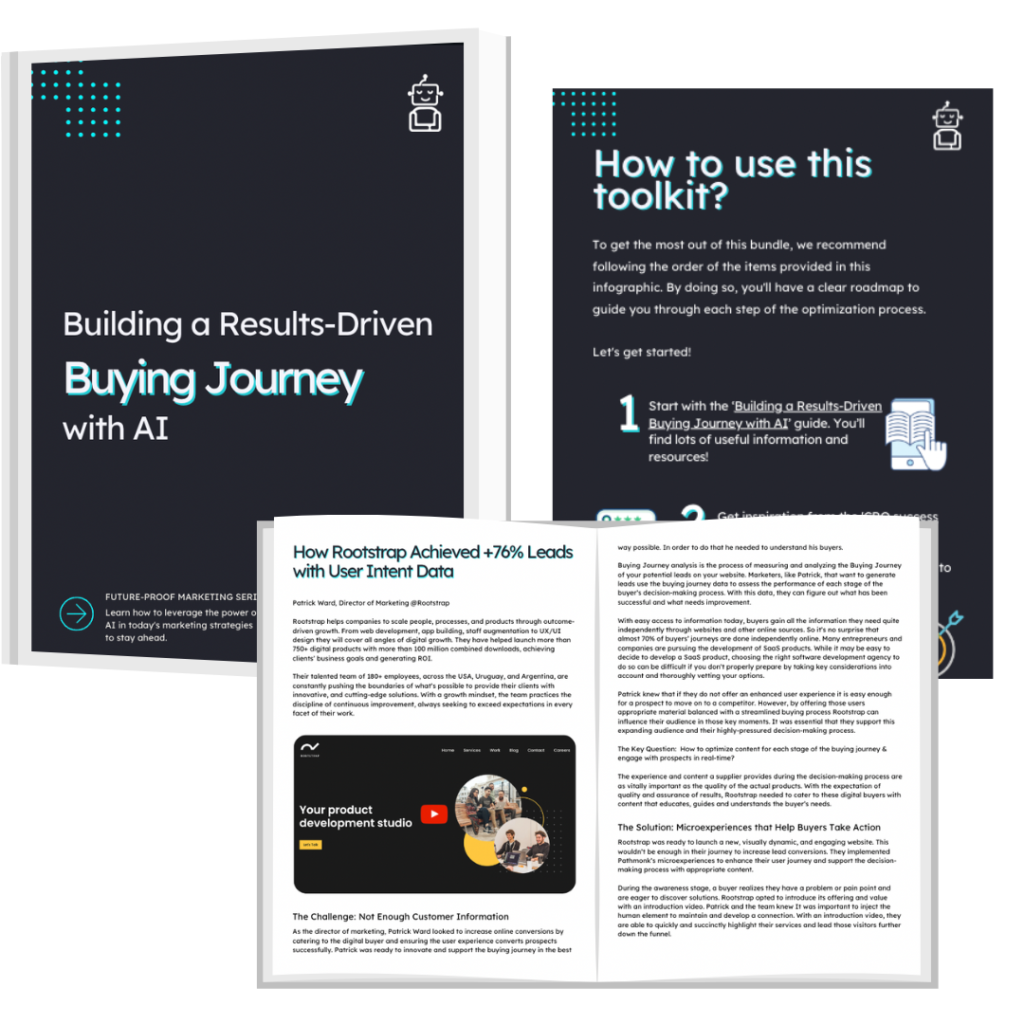 What Is a Website ROI Calculator?
Before getting too involved, you're probably asking, "What is a website ROI calculator?" This is an investment calculator that helps you estimate the loss or profit of your investment. Most people use it when they're making financial decisions, such as whether or not to purchase your product.
Sometimes, it's harder to do that when it's a service instead of a product, but there are different calculators out there. Ultimately, prospects want to see something other than text, and PandaHook is there to help you with visual personalization and the creation of a website ROI calculator.
How to Use a Website ROI Calculators on Your Site
You should also focus on how to use ROI calculators on your website. There could be different goals based on your needs. However, the best ways to use them include:
Selling on Value
Human psychology is a big part of the sales process, and an ROI calculator website can help. Humans often want to get the best return on their investment. Whether you're planning a website redesign or a marketing campaign, you want to see the best results.
You're strategizing and planning, and you're pretty good at it. One of the driving emotions behind a prospect's choice to invest is fear. They might fear that they're not making the best investment or might fail.
However, if you simply tell them that it's a good investment, it's likely to fail. Most of the time, a person's fear prevents them from taking action. Therefore, you need to help your potential customer overcome their initial doubts and fears.
They want to see it in action, not just read about it. That's why an ROI calculator can truly contribute to the overall sale. 
Reframe the Conversation
Traditionally, lead magnets are often PDF guides that provide general information. They could be articles or blogs, and they can be beneficial. However, they're not the only thing available.
In fact, these PDFs are often full of generic data that doesn't speak to the customers' concern or fear of making bad investments. Most people don't take the time to read them, either. 
ROI calculators are dynamic, and people only need a few seconds to fill in their information. Plus, it's a real-time system that offers immediate value that they can then take action on. Prospects are on your website because they need appropriate services or products, but they must justify the cost. 
Generally, ROI calculators as lead magnets are excellent to leverage for your sales process. You do less selling because the focus is already on the results. With that, interactive content could boost form completion rates by up to 80 percent!
Showing Instead of Telling
How does a prospect know that working with you is a good investment? If you have an ROI calculator, it offers instant feedback, and they can input their own numbers. This answers their question and brings you closer to the deal.
In effect, an ROI calculator speaks directly to their situation, forcing them to realize how valuable it is to work with you. 
While you are answering the prospect's question, you also capture information about them so that you can serve them better. You're data-rich now because the potential customer filled in real data to find real results. This means you get information, such as:
Email address

Website address

What they're searching for
How to Create a Website ROI Calculator
You're finally sold on the benefits and applications of an ROI calculator, but now you need to know how to create an ROI calculator. 
While you could hire a developer and spend weeks or months on labor, there is a better way. The first thing to do is to get an outreach automation tool that builds ROI calculators. There are many out there. 
In fact, you can use WordPress plugins to create your ROI calculator, as well. When you have all that available, you should also use PandaHook to help with visualization. While the text is necessary, most prospects don't want to see text-based information. Instead, they prefer images and personalization wherever possible.
When you use something like Outgrow, you create a calculator in one day. Just make sure that you know the right formula and have appropriate questions. The formula is:
The net gain divided by the total cost of investment is multiplied by 10 to get the ROI. 
However, some platforms use wizards where you input the questions or information, and they create it for you.
It's also a good idea to build a landing page (and PandaHook can help) so that the ROI calculator has its own home on the site. That way, you can optimize that page to provide a better user experience and focus on search optimization.
You should also think about rewriting some of the CTAs (calls to action) on your service pages and home page. They should include the ROI calculator to boost lead generation and help on the buyer's journey. Where do your visitors usually start thinking about the cost? Add the ROI calculator CTA to those pages.
Along with that, you need to have the right questions in your ROI calculator. It's only valuable if it can address the prospect's concerns about returns and costs. This means knowing as much about your potential customer as you can and understanding their behavior patterns when buying.
How to Insert an ROI Calculator on a Website
Once you've built the ROI calculator appropriately, the next step is a bit harder. You need to understand how to insert an ROI calculator on a website. In most cases, the builder or platform you use walks you through the process.
You can either embed the calculator on the site, make it a widget, or create a plugin that automatically fits on the site where you want it to be.
Top Choices for an ROI Calculator – WordPress
Choosing an ROI Calculator on WordPress is also easy. It has tons of plugins, and the calculator feature is quite popular. There are various plugins available to calculate measurements, prices, form fields, and more.
Since there are so many options, it's important to narrow down the search. Though you might want to consider other calculators throughout the site, you're primarily focused on an ROI calculator now. Therefore, you should research ROI calculators available on the site.
With some of the plugins, you can create any calculator you want. However, it could be more work than you want to take on. Along with that, you need to consider the template and work with PandaHook to focus on visual personalization. Once someone inputs their email address to get the results, you can create an amazing cold email that they want to open.
Another concern you probably have is choosing a mobile-friendly calculator that works well on desktops and smartphones. 
While there are many options, Formidable Forms Calculators could be best. This drag-and-drop builder features many calculator templates. That way, you can create the calculator you want. There are many options, but the ROI calculator template is what you're interested in now.
Just make sure that you know what questions you're asking. That way, things flow, and people get the answers they need.
You can also get an ROI calculator specific to your industry. For example, you might put a measurement calculator and a price estimate calculator in the right areas if you sell hardwood flooring. That way, people can easily see how much it might cost to redo a room in their house.
Having an ROI calculator website ensures that you can reach out to your prospects in new and interesting ways. You want to show them that they can see a significant return on investment when they choose your company and products. The average buyer is about 57 percent through the buying process before engaging with a sales representative.
While blogs and articles can be helpful at times, your prospect might have a specific concern that needs to be addressed. Often, this comes down to the price they're paying and what benefits or value they see in return. With an ROI calculator, you show that to them at the right moment so that they're ready to purchase from you.
Smart website analytics made simple
Understand your user intent, buying journey, and enhanced attribution in one unified hub. Up to 10x conversions.